Posted on
October 31st, 2005
by Mike Landfair
According to Money CNN, The Brookings Institute and Virginia Tech urban planning professor Robert Lang, in a new report say
There has been an impressive amount of construction in the United States over the last three centuries: All told, we've built more than 300 billion square feet of homes, offices, factories and other structures.
They predict
it will take just 25 years to erect the next 200 billion square feet, which we'll need to accommodate 70 million more people and to replace homes and offices erased by everything from disasters like Hurricane Katrina to plain old obsolescence.
The report looks at the 10 "Megapolitans" and of interest to us in the Northwest, what they call Cascadia, a Megapolitan that intertwines from Seattle to Eugene!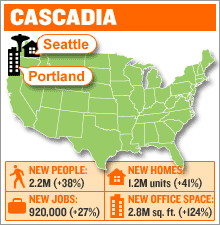 The topper:
Researchers estimate that the massive buildout will constitute a $25 trillion development market by 2030, more than twice the size of the U.S. economy today.
seattle portland eugene Megapolitan mover mike