Posted on
October 30th, 2006
by Mike Landfair
Back about 18 or so years ago, I made a cross country trip to Utah. My destination was Monument Valley. I had a picture of the Mittens taped to my dashboard.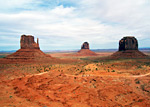 Capitol Reef National Park was my first taste of the red rocks of Utah, the Kaobab zone if I recall.
The Waterpocket Fold defines Capitol Reef National Park. A nearly 100-mile long warp in the Earth's crust, the Waterpocket Fold is a classic monocline: a regional fold with one very steep side in an area of otherwise nearly horizontal layers.
Robert Riberia described his first look at Capitol Reef this way:
It seemed that all of a sudden the reds literally exploded around us. Unearthly monoliths, pillars, and massive domes towered overhead. I felt as if I had left the planet. Giant plateaus, tilted strata, twisted canyons, unbelievable color, and lush dashes of green wherever water flowed. Junipers, cottonwoods, willows, and dashes of wildflowers created streams of life which flowed throughout the park. For my entire life I had never imaged that such a landscape existed on the entire planet, let alone in my own country!
I drove out the east side of Capitol Reef and the first town I came to was Hanksville. There I found a rock shop with some great fossils for sale. I asked where he found them and was told back up the road about 20 miles. "You'll find them laying all over the ground." Sure enough, I found as many as I wanted to pick up.
I was reminded of Hanksville when I read
An early October flood that wiped out a century-old diversion dam has left farmers with no water for crops and threatens to end their way of life.
Damages are estimated at more than $8 million. Politicians have visited the damage and shook their heads and wrung their hands, but not one $1 has been earmarked for the repair. Only 250 people live in Hanksville and some 800 head of cattle. Without water, though, they might all have to move away.
Capitol Reef Utah Hanksville/a> Mover Mike
Update: