First time ever that Noctilucent Clouds have been photographed from space: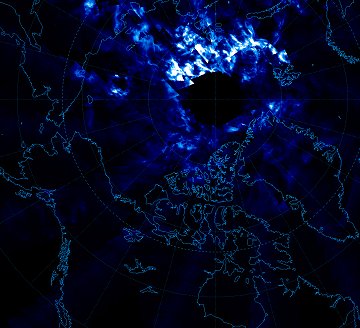 Hat Tip to Skye Puppy
They hover on the edge of space. Thin, wispy clouds, glowing electric blue.They're called noctilucent or "night-shining" clouds (NLCs).
Scientists think NLCs are ice crystals in the a layer called the mesosphere ranging from 50 to 85 km high. What we see may be the sun reflecting off those ice crystals.
The interesting thing about NLCs, they were first spotted in 1885.
A century ago the clouds were confined to latitudes above 50 degrees; you had to go to places like Scandinavia, Russia and Britain to see them. In recent years they have been sighted as far south as Utah and Colorado.
It is not clear if they are ice crystals or something else and if they are ice crystals, how did they get there? Finally, are they a symptom of (sharp intake of breath!) "global warming" or global cooling?