Posted on
November 1st, 2007
by Mike Landfair
Dish, please! We all love a juicy story and the hottest at this moment is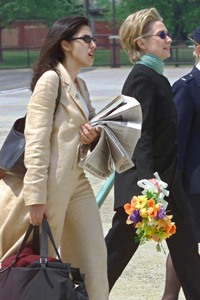 HUMA ABEDIN
Mickey Kaus writes:
Do you sense there is some large mass of dark matter, an unseen Scandal Star, the gravitational pull of which is warping the coverage of what seems, on the surface, a pretty dull presidential race? I do. So does Ron Rosenbaum. I thought the Dark Star was the Edwards affair allegation. But Rosenbaum says "everyone in the elite Mainstream media" knows about another juicy scandal that the LAT is supposedly sitting on.
BigHeadDC writes
We're still a bit incredulous on this one, but a top level U.S. Department of Justice official is telling Big Head DC that Michael Musto's rumor about Hillary Clinton fooling around with one of her top female aides Huma Abedin is based in reality!
Huma Abedin is Sen. Hillary Clinton's aide de camp, the glamorous HUMA ABEDIN, an Indian/Pakistani goddess from Kalamazoo, Michigan.
A couple of "wide-stancer" in the Republican party have gotten into trouble recently. Just today a Republican state legislator, Rep. Richard Curtis, resigned amid revelations that he had sex with a man he met at a pornographic video store while in Spokane on a party retreat.
What will the national reaction be, if true, that Sen. Hillary Clinton is having sex with a woman who works for her. A good looking, smart woman, a thin Monica, who is rumored to never wear the same outfit twice. Why that in itself is just wrong!
If Hillary's Having an Affair With Her…that's Actually Kind of Hot!
Huma Abedin Sen. Hillary Clinton Mover Mike