Posted on
July 31st, 2010
by Mike Landfair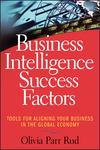 The mailman brought me "Business Intelligence Success Factors, tools for aligning your business in the global economy" by Olivia Parr Rudd. I agreed to review the book because I was intrigued by Chapter Two, where the author examines chaos theory, complex adaptive systems, quantum physics and evolutionary biology in relation to running a business. I wasn't disappointed.
Olivia Parr Rudd is the president and founder of OLIVIAGroup a consulting firm helping companies maximize their business potential. She found that the rapid change in technology and the tremendous flow of information, is putting tremendous stress on companies and changing the way they do business.
Rudd's stated purpose of the book "…is to enhance understanding of the current business climate along with the tools necessary to thrive in the new global economy."  I think she does that very well with footnotes and the source is listed at the end of each chapter.
Part One not only describes where we are today, exposes us to the latest scientific research.  This to me was the most interesting section of the whole book.
Part Two explores communication, collaboration, innovation, adaptability, and leadership; the five essential competencies that improve an organization's ability to prosper in the changing economy.
Part Three presents some new models for working in the new economy.
Part Four deals with a new form of organization: Holacracy.
My wife and I operate a furniture store, Landfair Furniture + Design Gallery. It is a small business. It opened after 9/11. We have three employees and under $1 million in annual sales. I looked for ways that this book could help not only us, but others like us and larger. Three ideas stood out to me for our business:
Democracy is in, central planning is out. Top down management is moving to a flatter structure in which decision making and responsibility are pushed down. The boss isn't the only person with good ideas for new products and procedures.
The internet made almost all information available to all. Information is vital for survival, because change is constant and rapid. In our case, our customers shop online and then come into the store. We need to do all we can to interact, provide answers and build authority.
Every process of a business can be analyzed. The other day I asked our bookkeeper to give me a printout of all designers who bought fabric in the last 12 months and how much. If we tracked it I could know which brand sold the most for each customer.   That kind of  information is powerful.  It helps us target our marketing.
As I indicated, Chapter 2, Models from Science and Nature was the most interesting and valuable.  Rudd explained Quantum Physics in relation to organizations; Evolutionary Biology and Living Systems; Complexity Science and Chaos Theory.  Sometimes a system can be very Zen like.  It can choose between adaptability and resilience.  A picture of a large rock in a river came to mind.  In the short term a rock represents solidity with feet solidly planted while current events flow around and over the rock.  In the short term it's good to be the rock.  In the long term it pays to be the river where obstacles are only diversionary.  In the long term you only need to view the Grand Canyon for the river's success.
There's much more here.  My mind kept thinking about the complex system of government we've built and how politicians think they can control our complex economic system.  They need to read Chapter two in Rudd's book.