Posted on
December 8th, 2012
by Mike Landfair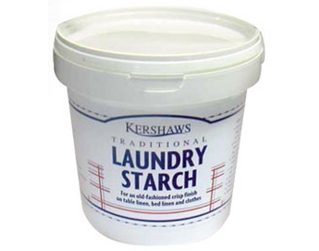 I awoke this morning thinking about my mom ironing dad's shirts. Dad worked for a funeral home and needed to look "strak" as they said in the army. He needed to look squared away, suit clean and pressed, perfectly tied tie, and a shirt with starched cuffs and collar. Mom would mix up starch and water, dunk the cuffs and collar in the starch and then iron the shirt. The results were as good as any laundry today. When mom started working, dad took his shirts to the laundry where when finished, would be folded and placed in boxes. Each shirt had a paper belt that was a pleasure to break before donning. There was always a great feeling putting on a freshly laundered and starched shirt. A pleasure I still like today.
I remember mom would sit in the kitchen and make yellow oleomargarine or faux butter. She would have a big mixing bowl with white margarine and mix in an orange-yellow coloring that would look just like butter when she was done.
Oleomargarine was actually created in 1869 by French chemist Hippolyte Mege-Mouries. During World War II, Oleomargarine increased in popularity due to shortages in butter, and it was economically more feasible, than more expensive butter. Both butter and margarine have to be at least 80% fat, while butter is a dairy product, margarine is typically made from vegetable oils.
Women then did not have dishwashers, washer and dryers. My sister and I would do the dishes and clothes were hung outside to dry in the sun on clotheslines or hung in the sun room. Mom usually ironed at night while my sister and dad and I played Monopoly. When was the last time you ironed? Where has all the savings of time gone for the women of today?